Ultimate ChatGPT Bundle For Designers
Fast-track your workflow, boost your sales, and attract new, highly motivated-to-buy clients with our 850+ strategically written ChatGPT Prompts specifically curated for interior designers, like you!
// What's Included
✅ 850+ Done for you prompts.
– You don't have to think about what to say, or how to say it. Our 850+ curated prompts are copy/paste prompts that you can use to hack ChatGPT to get the information you need!
✅ Editable Document
– We use Notion for these prompts- Make a duplicate, and customize your prompts to fit your firm specifically.
✅ 11 Categories 
– We cover 11 amazing categories of prompts from business toolkit, legal, Facebook Marketing, YouTube Marketing, Project specific, TikTok marketing, Design assistance, Copyright Assistance, Social Media Marketing, Client Services, and Email marketing.
Here's How It Works
With step-by-step instructions and examples included in The Ultimate Chat GPT Bundle, you'll be able to create high-quality content in no time.
Step One
Download
Get instant access to your download, where you can create a Notion account and duplicate the bundle and save on your own account. Lifetime updates included!
Step Two
Select
Browse through the over 850+ done-for-you prompts and choose the ones that are most relevant to your needs. With prompts tailored to interior design, you'll have everything you need to create high-converting content that resonates with your audience.
Step Three
Customize + Share
Using the prompts as a starting point, customize your copy to fit your specific needs or add to them to get more out of GPT. The prompts are designed to be "fill-in-the-blanks," so all you need to do is add in your own information.
Fully Customizable
for Your Products
and Services
Our "fill-in-the-blanks" Chat GPT prompts are easy to customize to get your products and message out to the world! All prompts are specific to interior design, so all you have to do is fill in any specifics you want and BOOM!
This Is For You If…
You're a stellar interior designer looking to create high-converting content,
increase your conversion rate, and attract new, highly-motivated-to-buy
customers, and save a ton of time but…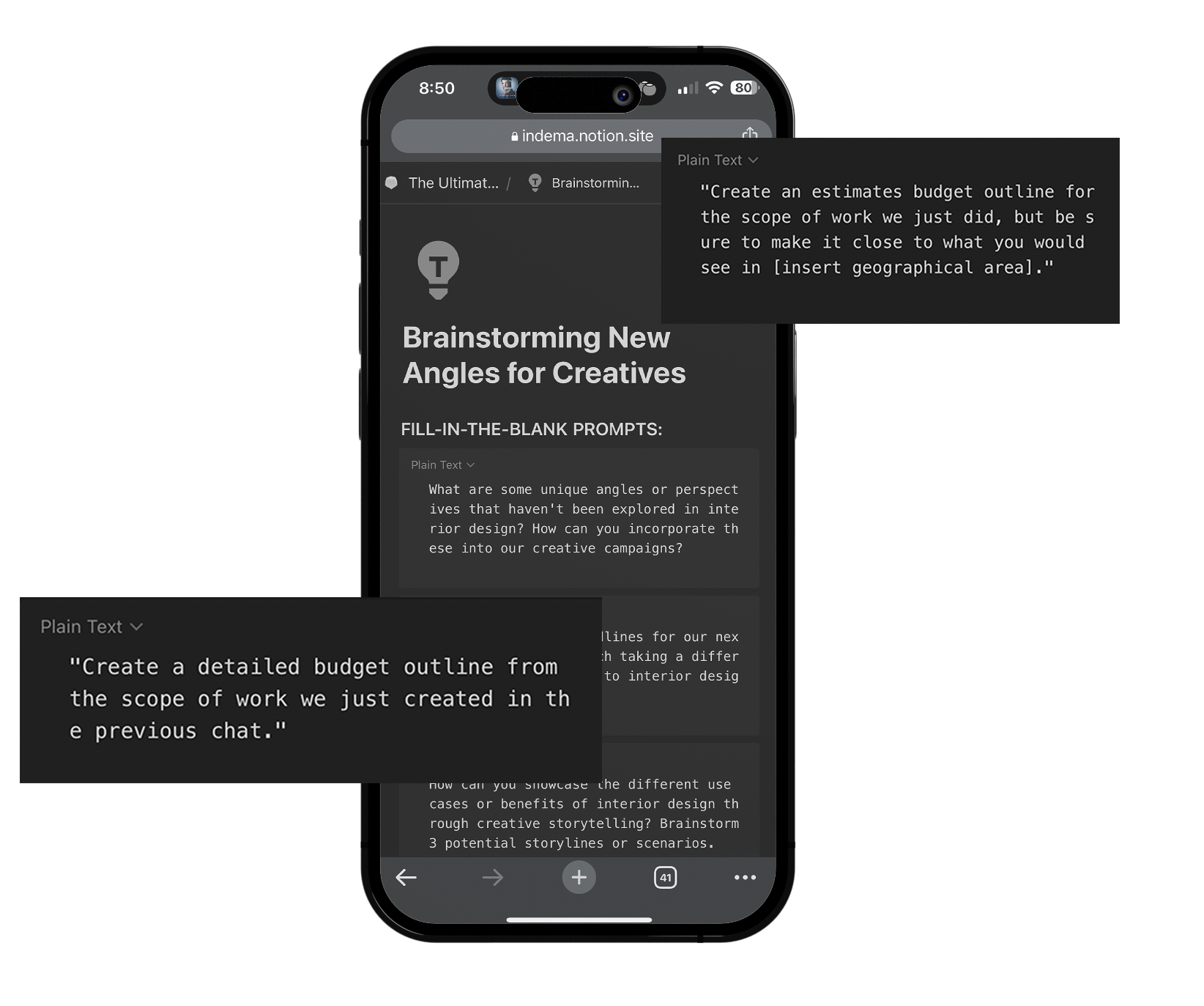 ✅ You don't want to pay copywriters thousands of dollars each time you need a sales page, ad, or email.
✅ You don't want to spend your own precious time writing so-so copy that gets so-so results. 
✅ You don't want to start with a blank canvas, wondering where to start.
✅ You need a simple solution that will save you time, money, and thinking.