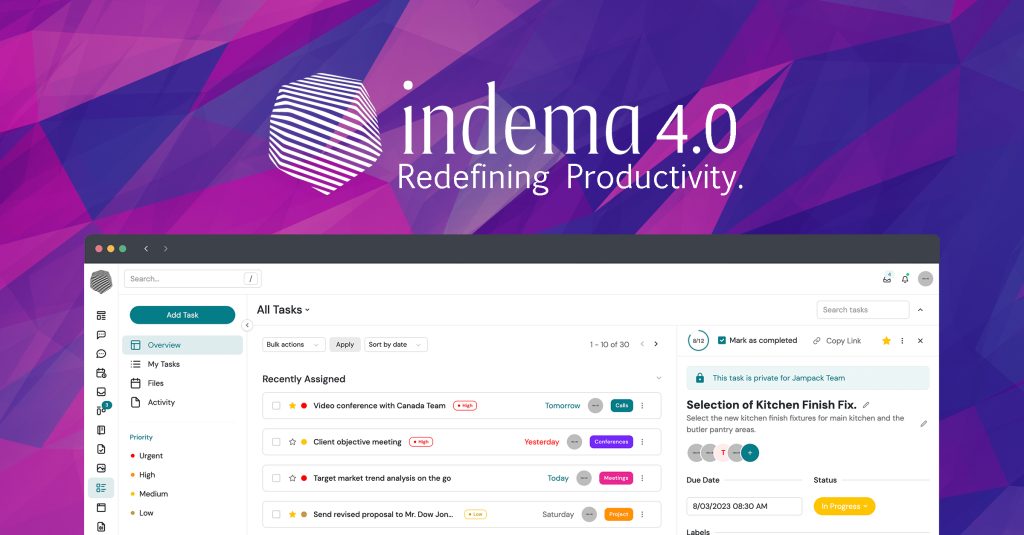 WOW! 3 years and 4 months it took for us to truly understand designers need for efficiency, and an all-in-one platform. From day one, indema was built for designers to have a more streamlined, connected process for everything. We have been fortunate enough to have a solid user base that is so open to providing us feedback to help us grow. With a few bumps and bruises along the way- we could not have done it without the support of you. So before we get into this, thank YOU for being the best part of indema!
Since launching indema 3 back in August 2022, it has been an insane journey to say the least. 3.0 was built by the community- every piece of feedback was taken into account, we built features on the fly, we encountered bugs, we squashed bugs, encountered more, but there is no platform out there that is perfect, sadly. To those who believe in indema and have stuck with us since day 1- a huge THANK YOU. And even those who left with fire- thank YOU as well for showing us what we needed to do better. For you. For the design community.
Together, we came a long way from day 1. Over the past 3 years our team has been insanely busy building the ultimate platform for designers. And in those 3 years, we are already on our 4th version which is better, faster, and more efficient for designers all over the globe. We always have the next version of indema in our minds, and a constant reiteration is always our top priority. Together, our design community can build a platform to help you stay organized, work smarter, be more efficient and keep your clients abreast of all the information they need to know.
// How we re-built indema
Indema was pushed to massive limitations as we scaled our user-base. The more users that came into the system, the slower and more challenged our servers began to run. Our original code, and platform just is not working for us anymore, and just like your design firm, we have to grow. In the last year, our developers were also challenged with keeping our system up to date, and at the same time, focused on bringing new features and Improving existing ones.
We built a completely new and more sustainable infrastructure that, first and foremost, provides the ability for us to develop quicker, and provides a substantial reliability improvement -after all you need a platform you can rely on, and indema 4.0 is that platform. The new code base is designed with infinite scalability which means that when we grow, our systems wont be struggling with that growth.
We built indema on a few core principals: Sustainability, performance, and reliability. We had to look at reinventing the wheel when it came to our speed and performance because when you work in a slow system, your process as a designer is also slow- resulting in a loss of revenue and loss of team moral. It all ties with how we run indema, and we've heard you.
// A Look Inside Some Of The New Features
As we look at indema 4.0, it will absolutely feel like an entirely new experience. Because it is! We redesigned the whole interface with amazing new features, more efficient layout design and easy-to-access components that re-define how you navigate through indema. Since the beginning, our obsession has been to create an unparalleled user experience, meticulously attending to even the smallest details. Indema 4.0 revives the emphasis on delivering the most exceptional, best-in-class user experience. It boasts a clean and intuitive interface, presenting a modern and uncluttered design.

Stunning Chats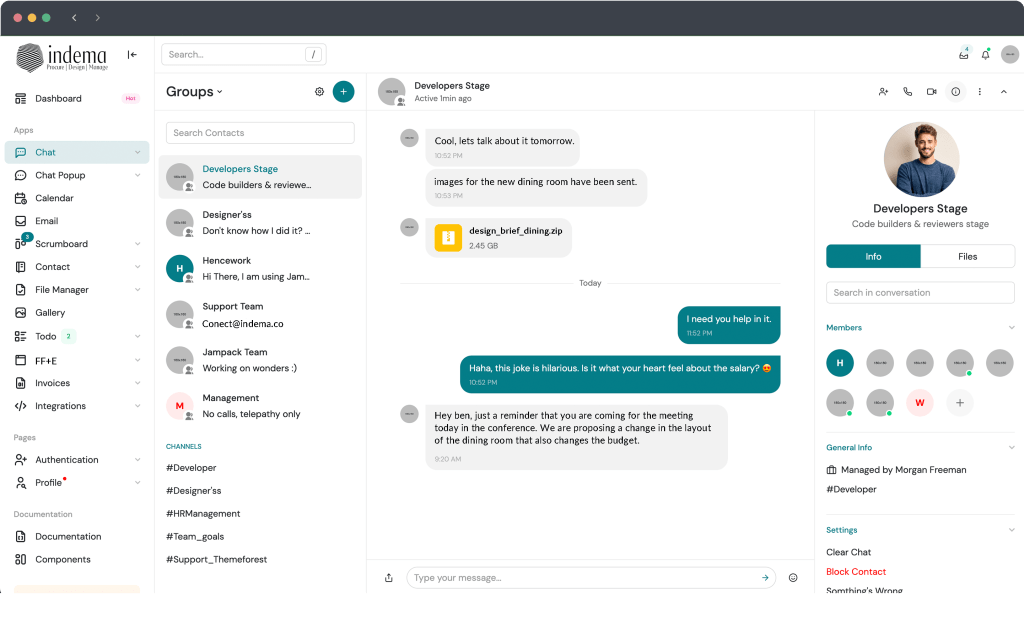 With the new re-designed "messages" section converted to two types of chats: individual or groups, you can create group chat with your employees, or clients, assign channels, and complete with the ability to share files like never before. Each group chat can have their own set of channels, such as specific to a topic to keep conversations streamlined and organized! You can even video chat with your client or employee, right from indema's own video conferencing tool.

The secondary chat option is individual chat. This is simple individualized chats with your team member, or client. Completely private away from a group setting. One awesome feature with the chat and even other components of indema 4, is that users can even tag other people in the chat, or other places of the platform. That person will get a notification of the ping- keeping everyone in the loop when they need to know.

Redefining Task Management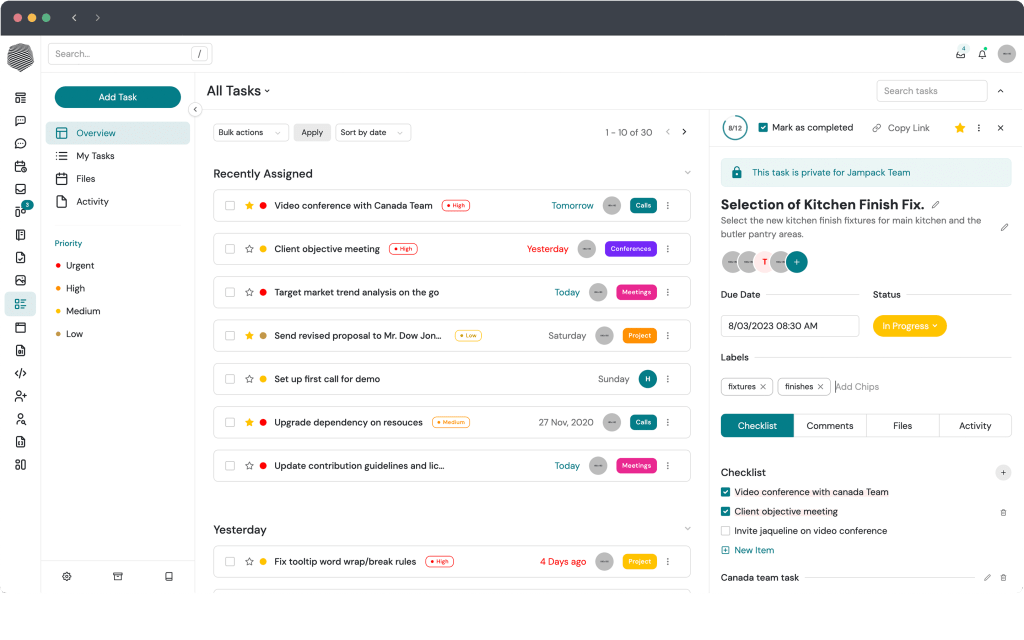 Task management has always been a struggle for us because there is SO much information that can tie to a task. We have completely re-designed task management and implemented some of the most amazing features with this including (but not limited to):

Task privacy: You can set a task to be private to yourself and a group of people that you want to share the task with, or public, meaning everyone in the firm can see the task.
Checklists: Not only can you create a checklist (essentially a to-do list), but you can also create a team checklist.
Notes: Your notes dont stop at just note-taking. Tagging other employees in the notes to ping them on something important, or even tagging a client.
Comments and activity: Commenting on the task and tagging users, and seeing all activity that runs through that task.

Complete with a re-design of task management screen and extensive ability (not shown in this screenshot) to manage you time specific to that task. In addition to this, you have the option to bulk action a set of tasks, and even re-organize the tasks right on the main task screen. Starring tasks to favorite them, and managing the task right at your fingertips without waiting for another screen to load.
Apps Marketplace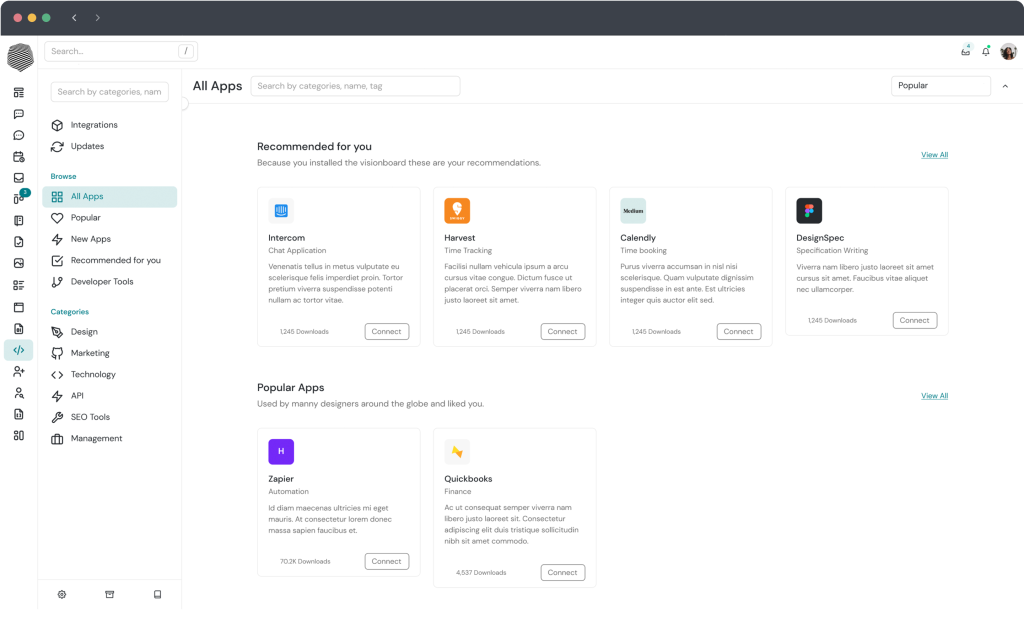 And one more tease here because there is just way too many things to list for now, we will come out with our keynote when we get closer to launch- Apps marketplace. Indema will be semi open-source, where other companies in our industry will be able to create plugins/apps for the apps marketplace. This opens indema up to endless possibilities to enhance not only our eco-system, but enhance the way you work as a designer. We have already secured API's with industry-leading platforms such as Harvest for time-tracking to ensure that you don't need to leave platforms you are comfortable with in order to use indema. This is just the tip of the ice-burg with indema 4.0.
Join indema 4.0 waitlist for early access.
We literally cant wait to show you the revolutionary indema 4.0 experience! It will launch in two phases:

Phase 1: Once we are finished with beta 1, we will launch beta to those teams who signed up in batches.
Phase 2: After 50% of our user-base has migrated to 4.0, we will launch the remaining users at once within 90 days to allow a transitional period.
Indema 4 is a HUGE milestone for the interior design industry. Indema is setting the bar high for tech with 4.0 and what it unlocks as far as reliability, performance, and innovation is what we are most excited for you to experience and future users of our ecosystem!

Get on the waitlist here.
With love,
Timothy