The Only Tool Your Interior Design Firm Needs.
All growing design firms run into the same fundamental problems. Hair on fire, not sure who sent what to the client, stuff everywhere. The good news? Indema solves all of this.
Start Your 15-Day Trial
Schedule A Tour
Chaos, organized.
Indema helps design teams and processes connect. we help cultivate teams that actually enjoy working together on new projects by providing all the tools necessary for a design firm to be more productive, organized, and efficient.
 In one centralized platform.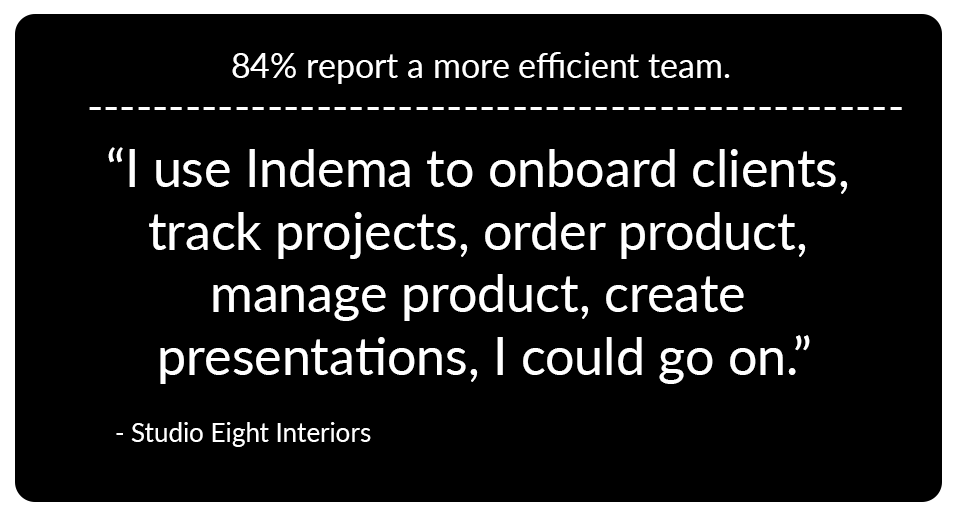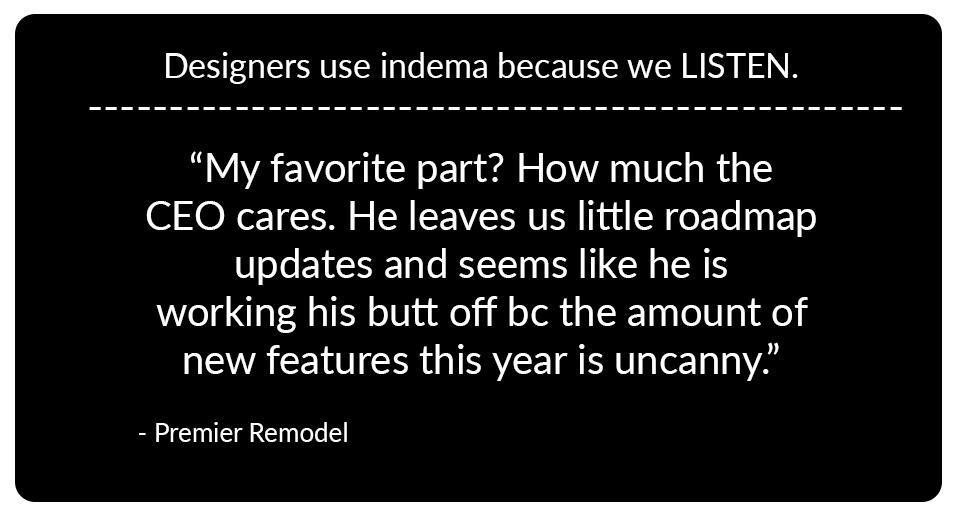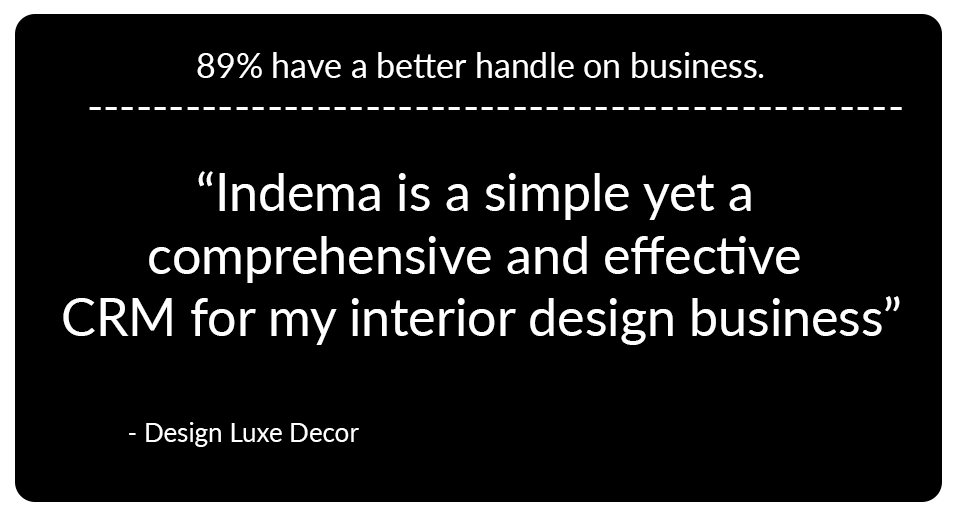 Before indema...
You use multiple tools and spreadsheets that fragment the team.

You and the team work on things as they show up.

You're not sure who sent what to the client.

You simply don't know the status of PO's.
After indema.
You manage everything from a single platform.

You know who needs to work on what.

Your clients can approve products without emailing you.

You save time because your process is more automated.
Our Trusted Partners
Indema not only offers a stellar platform to manage your design firm, but we also partner with the interior design industrys top resources to help you excel even more as a designer.
A Unified workspace with all the tools you need.
Get your teams working in sync. With indema, conversations and processes are structured in one tool, we create the focus and clarity your team needs to get their best work done.
Frequently Asked Questions
What currencies does indema support?
indema is a global platform with design firms in over 15 different countries. Our platform allows you to not only work in a default currency to your home currency, but also if you were to get a client in a different country, you can actually charge your client in their own currency! We've made this very easy for anyone in the world to use indema. 
How long does indema take to get set up?
That depends on the size of your team, company, and your requirements. For most of our designers getting fully up and running with indema takes from a few days up to a few weeks – that includes importing your data (contacts, vendors, etc.), and getting to know the system. But, we are here along the way to help as much as possible. 
Can I import things from my existing platform?
We've made it as easy as possible to migrate data from your other platform. We have import options for Clients, Vendors, Leads, Projects, Tasks, and even products! The only challenge you'd run into, is if your existing solution does not have any export options. Otherwise, it's relatively easy to migrate!
How does indema's pricing structure work?
indema is a tiered subscription service so the pricing depends on the number of people in your team as well as the plan that suits you the best! All plans are inclusive of our core features, with add-on options to extend the capability of your account. 
We get questions all the time about indema! Here's some of the questions we get on a consistent basis. Of course, if you have anymore questions feel free to reach out to support.
Can I charge my clients and is there a fee?
Yes! You can charge your clients for anything! We integrated with Stripe, Paystack, Razorpay, and Paypal. We are incrementally adding integrations down the road as well to extend these capabilities. We do not charge you a fee (like competitor platforms do!). You are just charged for whatever fee the platform you choose to use charges. Typically 3% for credit card transactions and 1% for ACH. 
Does indema integrate with Quickbooks and other accounting software?
Right now indema integrates with QuickBooks Online. This is also done on an automated level meaning once you connect to QBO, all your data (Clients, Vendors, Products, and all finances) syncs automatically as you create or edit them inside indema!
What makes indema different from other platforms?
Aside from our DNA and our values that make up who we are as a company, we have many features that differ from the other platforms. indema focuses more on managing your business, marketing, and project workflows, while the other platforms focus a lot of their efforts on moodboards and design. Some even just focus on Finances, which force you to have to use multiple other platforms to accomplish everything you need.
Is there a learning curve with indema?
With transparency being one of our core values, we have to say that this totally depends on you and how you are able to latch onto new tech! What we can also say is that it is absolutely a commitment, and if you aren't fully ready to make a few weeks to a few months commitment (depending on your team size), indema most likely wont be the right tool for you right now. 
What does support and training look like at indema?
We support all of our plans both on live chat, as well as email support. For training, we do provide a free onboarding session, continued as-needed training for the team at $50/Hr and paid onboarding services which you can learn more about here.